HAIDA FEVE aluminium composite panel is a combination of the advantages of PE coating and PVDF coating aluminium composite materials. For instance, its glossy and color brightness is the same as PE coating ACP and its weather resistance is comparable with that of PVDF coating aluminum composite panel.
In addition, FEVE ACP is characterized by high surface hardness. Its pencil hardness is over 4H.
It is ideal for building decoration and protection, and sign making industry as well.
Specifications
The thickness of FEVE aluminium composite panel comes in 3mm, 4mm, and 6mm, and the aluminum coil thickness is available in 0.3mm, 0.4mm, and 0.5mm.
Standard size: 1220x2440mm; 1500x3050mm; 1250x2500mm; 1500x 4050mm.
The panel size is customizable.
Gloss Contrast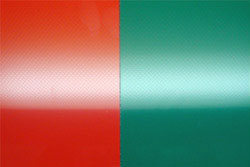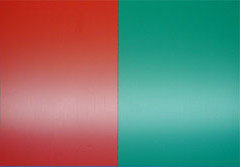 FEVE Coating
PVDF Coating
HAIDA FEVE ACP Color Chart

Litai Ornamental Material Company is China based FEVE aluminium composite panel manufacturer and provider. Our products include fire resistant building ACP, Brush finish ACP, and so on, and we are committed to providing quality and low priced composite materials to customers worldwide. In order to do this, we employ modern quality and cost control systems to guarantee our product quality and price. In addition, we are located in Jiangyin city which is near to Shanghai. This favorable location offers us reduced material transportation cost and also helps save customers' international freight charge.
Now, our products are CE, SGS, CTC, and ASTM certified, and are exported to a wide range of countries, including America, Canada, Spain, Holland, Brazil, Mexico, and India, etc.
If you want to know more details, please don't hesitate to contact us, by phone, email, mail or fax.