HAIDA PVDF aluminum composite panel is made using good quality aluminium coil. After surface treatment, the composite material is coated with primer coating, top coating and the third layer transparent coating. The top coating material we adopted is one of the best quality PVDF in the world which contains 70% fluorocarbon and features good UV resistance and color stability. Hence, our PVDF aluminum composite panel can keep its color for a very long time.
Specification
The standard width of our PVDF aluminium composite panel is 1220mm. Other width options like 1250mm, 1500mm, 1550mm are also available.
The standard length is 2440mm and it is customizable.
Our competition advantages
1. Our adoption of advanced production lines ensures the flat surface of our PVDF aluminum composite panel.
2. The adhesive film is made using DOPONT raw material, which ensures the high peel strength.
3. We have raw materials in various specifications in stock, so as to ensure fast delivery of products. Our delivery cycle is usually 15 days.
4. Our PVDF aluminum composite panel is provided at competitive prices, due to our use of scientific cost control management system.
5. As an aluminium composite panel manufacturer in China, we provide purchasers with 15 years warranty on the color quality of our composite material and 20 years on construction quality.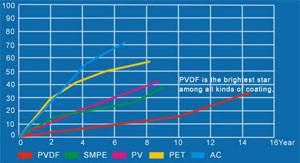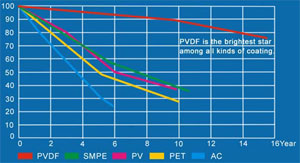 The Comparison Chart of Gloss Preservation Rate for Different Coatings
The Comparison Chart of Color Changes for Different Coatings
Technical Data of HAIDA PVDF Coating
General Properties
Dry Film Property
Test method
Criteria
60 Gloss
ASTM D523-89
20% to 75%
Formability(T-bend)
ECCA 11-19 ASTM D1737-62
2T, no cracking
Reverse Impact-Crosshatch
ECCA 11-5
No pick off
Pencil Hardness
ASTM D3363-92a
3H
Dry
ASTM D3359, Method8
No change
Wet
37.8 ℃, 24hrs
Boiling Water
100 ℃, 120min
Abrasion Resistance
ASTM D968-93 (Falling sand)
20 liters/mil as the criterion of AAMA, 70 liters/mil as the actual value
Chemical Resistance
-
No change
HCL
ASTM D1308-79
H2SO4
ASTM D1308-79
Mortar
AAMA 605.2-90
Detergent
ASTM D2248-73
Abilities of Weathering Resistance
| | | |
| --- | --- | --- |
| Dry Film Property | Test method | Criteria |
| Color Retention | ASTM D2244-93 | Max.5 units after 4000 hrs |
| Gloss Retention | ASTM D523-89 | 70% after 4000 hrs |
| Chalking | ASTM D4214-89 | Max.8 units after 4000 hrs |
| Salt Spray | ASTM D-B117-90 ECCA 11-2 | Blisters-10 Scribe-8 3000hr.-Aluminum, 35 ℃ |
| Humidity-Thermal | ASTM D2246-65 | No blister No cracking 10 cycles:24hrs*100%RH, 37.8 ℃ 2hrs*18 ℃ 4hrs*24 ℃ |
| Humidity | ASTM D2247-94 | No change 3000hrs-aluminum, 35 ℃ |
From above parameter forms, we learn that the PVDF coating of our aluminum decorative wall panel has good resistance to chemicals and abrasion and good color and gloss retention, etc.
As an experienced China based PVDF aluminum composite panel manufacturer and supplier, we are confident that you will be satisfied with our PVDF ACP. In addition to PVDF aluminium composite materials, we can also offer PE coated ACP, NANO coated ACP, and so on. All our products are CE, CTC, SGS, and STM certified.
We are located in Jiangyin city which is near to Shanghai, a large port city of China. This favorable location offers us easy access to abundant labors and convenient sea transportation. Therefore, we can provide you high quality products at lower price.
For more detailed aluminum composite material information, please browse our website or contact us directly.